**For some reason the photos aren't showing correctly for me in this post. If they look weird to you, click to see each photo.**
When Annie saw me today she became a little worried. I can only imagine what's going through her little mind.
They left us alone and she cried a lot. Not screaming or too hard, more like sobbing. The foster mom came in a handed me a bottle and once I fed her she was a little happier. Foster mom said she didn't have a nap yet and was very tired.
Some exciting news! The agency asked Lisa to escort a baby home to San Francisco on Friday. She accepted and is honored to do it. There is a shortage of escorts right now so the parents are very happy to get their baby a couple weeks sooner than they had thought. We met with that baby girl and foster mom today too. She kept trying to tackle Annie. LOL I took lots of photos to share with her parents but I won't post her face publicly.
Here are some photos from today -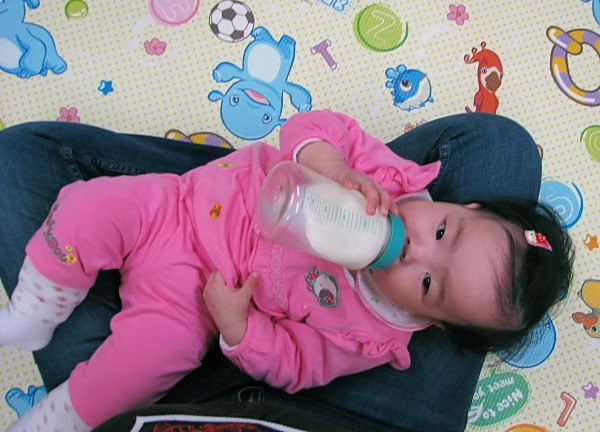 She took her bottle on my lap but insisted on holding it herself.
I did get some finger squeezes.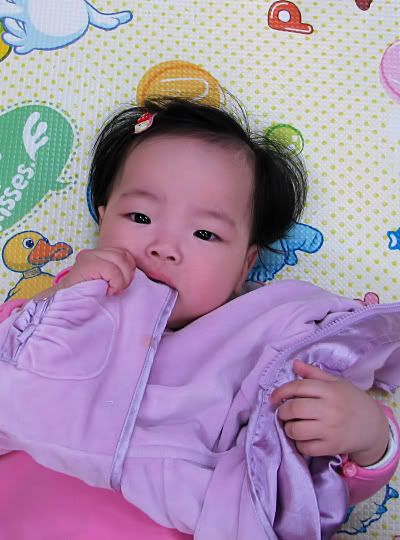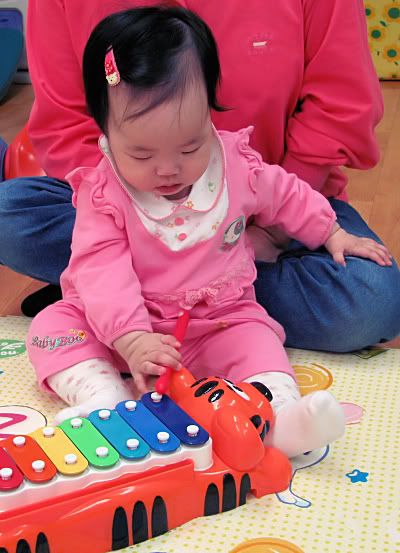 We watched some babies leave today (the women from my agency were escorting them) and it was heart wrenching. The foster moms were devastated. Everyone was crying including us. I suppose it prepared me a little for what might happen Friday. On the other hand some adoptive parents we met here from Seattle got their baby yesterday and the foster mom wasn't emotional at all. It was her 33rd baby.
I spent a few hours in the nursery today holding, feeding and changing. That was a really special experience. I can't believe how tiny they were, most only a few days old. There were so many beautiful babies!
I get Annie for good tomorrow (Thursday) afternoon. We'll stay the night in the guest house alone and then leave for the airport Friday afternoon. I'm so excited but pretty nervous too.
Backing up a little to our day yesterday. Our new Korean friend Bella that we met on Sunday called our hotel yesterday to see if we wanted her company. Of course we did, she is wonderful! She met us at noon at Dongdaemun shopping complex which is the most unbelievable place to buy fabric! It was amazing, like nothing I could have ever imagined. Floor after floor with mazes of stalls selling fabric, thousands of them. I couldn't see it all if I spent several days there. On the top floor was the food court where we have a delicious traditional Korean lunch.
After that we went to a bath house. That was amazing! It was at least 4 stories tall. The pools/baths were neat with varying temperatures from freezing cold to burning hot. I couldn't go in either of the 2 extremes but stayed in the middle pools. After the pools we went into all these different saunas that were shaped like huts. They each had a different function. One had coal and clay and was said to be good for your lungs. Another had salt and was for your kidneys. One was literally an oven and we could only stay in there a few seconds it was so hot. We also went into a freezing ice room. I liked that one! We would have never figured any of this out without Bella translating. This wasn't a place for tourists so we were really grateful for the experience. After the saunas we went for massages. I had a traditional Korean massage and Bella asked her to go easy on me but I am still in pain. The woman gets up on the table and uses her whole body during the massage - ouch! Lisa had a massage and Cupping. The cupping is these hot ceramic cups that are heated and stuck to your back and legs. They pull toxins out of your body. Lisa has the big purple marks all over from them still! This bath house also served food, had exercise rooms, sleeping rooms and lots more. It's less than $6 to get in and you can stay all night. The hour massage was only around $35.
After the bath house Bella took us to dinner. We went to a barbecue place where you cook your own pork on a grill on your table. Of course like all Korean meals there were a bunch of side dishes. We grilled the pork, added toppings and wrapped them in sesame leaves. Delicious! We drank rice wine that is supposed to make us live 100 years. I love that about Korea, that everything has a fun purpose like that. The label on the bottle translated to "100 year wine" or something like that. I picked some up at the convenience store to bring home. The corn tea I drank earlier that day had a specific purpose too but I can't remember what it was.
When we were done with dinner Lisa and Bella were ready to go to Karaoke but it was 11pm and I was to meet Annie in the morning so I turned in. They had fun and I'm sorry I missed it. I would have loved to take video. Here are some more photos from our site seeing -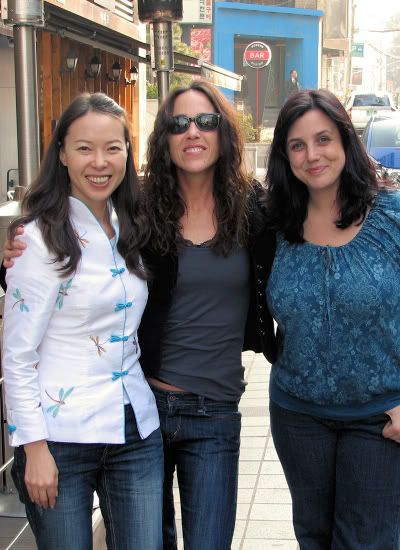 Bella, Lisa & I at Mister Doughnut
Lisa & I on the street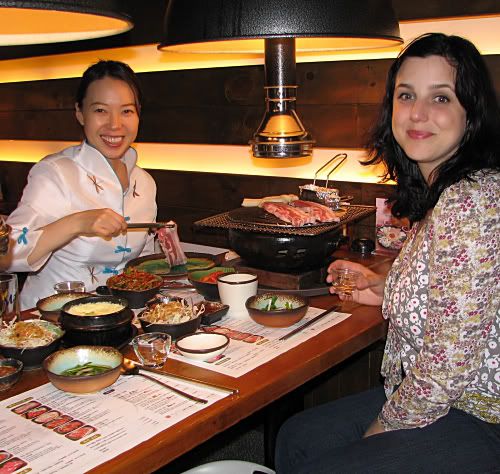 Bella and I at dinner last night
I haven't uploaded the photos of Dondaemun yet. I'm getting hungry and this post is getting long so I'll do it later. I have a couple more short videos of Annie to upload too. That's all for now, will post again in the morning and then I'll be offline until I get home since I can't use my laptop at the guesthouse.